Description
Dry Heat Resorts is proud to represent this 4 bedroom, 2,846 square foot central Palm Springs estate rental. Desert living is best experienced outdoors with the estate's lagoon-shaped salt-water pool with inlay spa and tanning shelf. The grounds also include an outdoor bar and grill area perfect for dining al fresco or sipping beverages while the chef in the group grills gourmet meals. In addition to the grill, the bar features a fireplace and wall-mounted flat-screen TV. Incredible views of Mt. San Jacinto, a private outdoor shower, fire pit, multiple bubbling fountains, spacious grass area, five lounge chairs and a covered outdoor dining area with misters complete the outdoor space.

Inside the house, Tachevah Sunrise offers Spanish-revival architecture reminiscent of early desert living including arched passages, wood beam ceilings, wrought iron hardware and exquisite wooden doors.

The master suite is your own private getaway with views that will blow you away. It has a king size bed, 42" flat-screen TV, ceiling fan, two nightstands, walk in closet and large picture windows with both pool and mountain views. The ensuite bathroom has duel sinks, a step down shower with window and a large oval bathtub with mountain and pool views.

Bedrooms two and three have a queen & a King size bed respectively, walk-in closet and French doors to a shared furnished patio. Each bedroom also features a 32" wall mounted TV. Both bedrooms have ensuite bathrooms, one with a shower, the other with a bathtub.

Bedroom four has a Queen size bed and French doors to a furnished patio.

The formal living room has an exposed wood beam ceiling, Desk with Chair and a comfortable seating area set around a cozy gas fireplace. Like much of the house, it also has pool and mountain views.

In addition to the formal living room, this Palm Springs estate rental has a spacious family room that is a great place to hang out with family and friends. The room has a luxurious L-shape leather sofa that can seat six to eight people. For your comfort, a ceiling fan circulates your air. For your entertainment, the room has a 65" flat-screen TV, DVD player, Wii console and an iPod compatible stereo system with built-in speakers.

As would be expected in a house such as this, this Palm Springs vacation home features a spacious gourmet kitchen with microwave, Keurig coffee machine, convection and conventional oven, five-burner stove, dishwasher and ice maker, In addition it has two sinks, including one at the center island.

Adjacent to the kitchen is the formal dining room that seats 8.

Other features include remote controlled entry gate, four car private motor court, two-car garage, large capacity washer/dryer and a front entrance fountain to welcome you and your guests.
Amenities
AMENITIES:
WiFi,
Free US & Canadian Long Distance,
Keurig Coffee Maker
Washer/Dryer,
Two-Car Garage,
Multiple Furnished Patios,
Mountain View,
Lagoon-Shaped Salt Water Pool With In-Lay Spa,
Deck Jets
Misters,
Outdoor Enclosed Shower With Waterfall Shower Head
Fire Pit,
Outdoor Fireplace,
Outdoor TV Over Wet Bar,
Gas Grill,
Private Remote Controlled Entry Gate,
Four-Car Motorcourt,
Entire Property is Walled for Both Security & Privacy,
Phone-Controlled Pedestrian Entry,
Covered Outdoor Dining Area With Misters,
Two Fountains,
iPod Compatible Stereo With Built-in Speakers,
High-End Linens,
Gas Fireplace in Living Room,
Floor Plan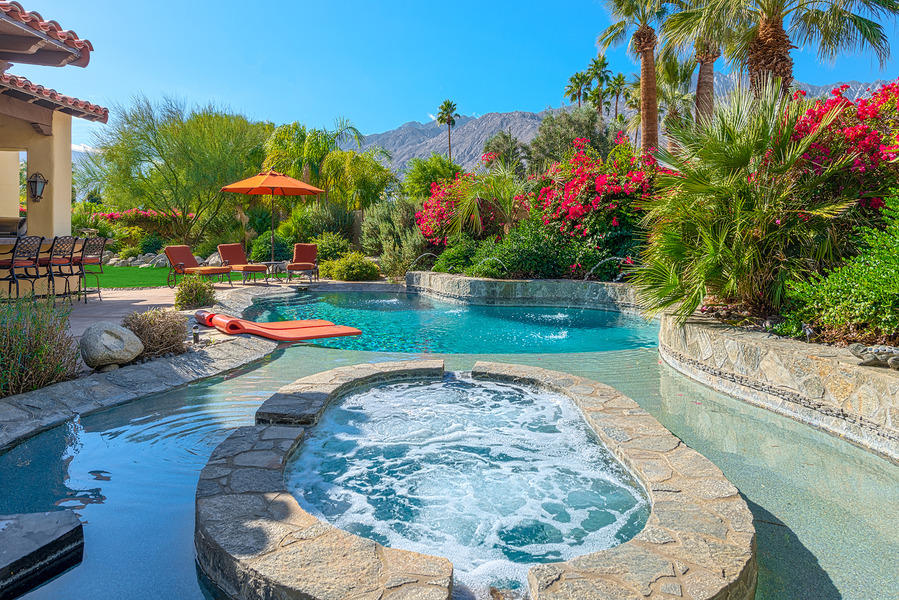 Map
Calendar
May - 2020
S
M
T
W
T
F
S

1

2

3

4

5

6

7

8

9

10

11

12

13

14

15

16

17

18

19

20

21

22

23

24

25

26

27

28

29

30

31
Jun - 2020
S
M
T
W
T
F
S

1

2

3

4

5

6

7

8

9

10

11

12

13

14

15

16

17

18

19

20

21

22

23

24

25

26

27

28

29

30
Jul - 2020
S
M
T
W
T
F
S

1

2

3

4

5

6

7

8

9

10

11

12

13

14

15

16

17

18

19

20

21

22

23

24

25

26

27

28

29

30

31
Aug - 2020
S
M
T
W
T
F
S

1

2

3

4

5

6

7

8

9

10

11

12

13

14

15

16

17

18

19

20

21

22

23

24

25

26

27

28

29

30

31
Sep - 2020
S
M
T
W
T
F
S

1

2

3

4

5

6

7

8

9

10

11

12

13

14

15

16

17

18

19

20

21

22

23

24

25

26

27

28

29

30
Oct - 2020
S
M
T
W
T
F
S

1

2

3

4

5

6

7

8

9

10

11

12

13

14

15

16

17

18

19

20

21

22

23

24

25

26

27

28

29

30

31
Nov - 2020
S
M
T
W
T
F
S

1

2

3

4

5

6

7

8

9

10

11

12

13

14

15

16

17

18

19

20

21

22

23

24

25

26

27

28

29

30
Dec - 2020
S
M
T
W
T
F
S

1

2

3

4

5

6

7

8

9

10

11

12

13

14

15

16

17

18

19

20

21

22

23

24

25

26

27

28

29

30

31
Rates
* Rates are subject to change without notice. Pricing excludes taxes, additional options or fees.
| | | | | |
| --- | --- | --- | --- | --- |
| Vacation Rental Standard Pricing | Night | Weekly | Monthly | Min Nights |
| Low Season | $550 | $3,300 | $12,000 | 3 |
| Mid Season | $595 | $3,570 | $13,000 | 3 |
| Peak Season | $850 | $5,100 | $15,500 | 3 |
Reviews
Page: 1 of 2

Property Manager

Outstanding - responses were always timely and we felt fully informed.

Property

Thank you for providing a great experience for our holiday. We enjoyed hosting our friends in such a beautiful, clean rental.

Property

This house is great - we had 2 families with small kids, which worked out great. The outdoor area is where we spent most of our time and it was perfect for our needs. Overall, a great stay - we'll be back!

Property

Great property, very well maintained, great pool and close to everything in the area. We will definitely book again. Great rental experience!

Property

We had a great time, the pool was really nice.

Property Manager

Property managers were extremely communicative and made the entire process a breeze. Personally I have found that the quality of a vacation rental can entirely come down to the management of that property. I would not hesitate to rent this property or any other managed by this group. Thanks.

Property

Spent 3 nights with a group of friends. The house was fantastic in every way with plenty of space inside and out.

Property

We stayed with friends for a long weekend and had a great time. Backyard had plenty of room for 3 couples to relax, swim and barbecue.

Property Manager

The concierge service did a great job for us. A bit expensive but they worked well with us. The landscaper came by while some of the family was in the pool. He didnt want his activities to bother them, so offered to come back the day we left. Much appreciated.

Property

We had a wonderful time. A bit windy to use the outside to its max, but got out there . The pool was perfect for our toddlers. The two one-year-olds could walk in the shallow shelf. Your home was so beautiful. The two young moms immediately moved all the art and decorations that the kids might get to. Hope we got everything back in the right places. I would definitely recommend this property to anyone. It was just perfect for us. 6 adults, a 3-year-old and two 1-year olds. The Mexican tile floors in the main areas was lovely but we also didnt have to worry about kid food spills. A definite plus. Pat

Property Manager

The hosts were great!

Property

The home is amazing! Plenty of room for all guests staying and in a convenient location! The pool is amazing and the hosts were great! Would 1000% recommend staying here and can't wait to go back.

Property

Great place with well done amenities. This property should be at the top of the list!

Property Manager

We rent a home in Palm Springs every year for the past 10 years for our family to ride in the Tour of Palm Springs bike ride. For the last two years we have rented homes from Dry Heat Resorts, they are most comfortable and spacious with excellent floor plans and backyard settings.

Property

Great Floor Plan and Private backyard! a great value for the money! The salt-water pool and hot tub is a huge plus for us as we spend most of our time outdoors. Kelly is great to deal with and affords you all the amenities and privacy to make your stay amazing. The location of this home could not be better, it was a short walk to the park and about a mile to the center of Town. We have found great value in Dry Heat Resorts and will continue to use them!

Property

Very organized - great property for two families. Everything in pool and hot tub worked perfect.

Property Manager

This property was easy to book. And Kelly met us at the house to show us around and checked us out when we departed.

Property

We stayed at Tachevah in December of 2018. The whole experience was great. The kitchen is well stocked. We were able to cook every meal in. The house is furnished comfortably. Nice linens. The pool and grounds are the star of the show. Our family of 6 adults, a college student, a 16 year old, and a 4 year old had a great time here. In fact, the pool was great for our 4 year old. There's a shallow wading area that was perfect for her to splash around in.

Property

Magnificent in every way. The weekend was amazing I loved this property and will be back many more times

Property Manager

Kelly met us at the property gave us a great orientation while answering all questions we had.

Property

Exactly as promised! 1st visit to Palm Springs and staying at this property was perfect! The beautiful home and resort-like yard/pool area was exactly what we wanted. Close to the downtown area too. Will stay here again!

Property

Outstanding, quiet, has everything. Beautiful pool yard, Great entertaining kitchen, Minutes for downtown and the airport

Property Manager

Kelly was so charming and helpful, making sure we got checked-in and stopping by to make sure we knew how to use the pool and the hot tub.

Property

Amazing pool, beautiful house made for a perfect weekend get away! Five Stars. My family and I had an amazing time at this beautiful house. The pool was amazing and the layout of the house was perfect for multiple families with kids and dogs. The kitchen was incredibly well stocked, and the house had plenty of amenities -- every detail was thought of. We would absolutely stay here again!

Property Manager

Kelly and Kenny were both great hosts. When we arrived the internet and tv were out and Kelly came the next day to meet the cable guy to make sure everything was back on and working.

Property

This house is absolutely amazing! Gorgeous from inside to outside. You will not be disappointed. Kitchen is fully stocked with everything you need. The bedrooms are big and roomy and so comfortable. The house is very close to downtown. The pool and yard with all the amenities puts the icing on the cake. The pool, outdoor bar, table, fire pit and the landscaping is just like paradise. If you are going to Palm Springs this is the place to stay. We were 3 couples and one kid and everyone was extremely comfortable with plenty of room to spread out. It was very clean and comfortable. Love this house and will definitely come back. No other place I would stay in Palm Springs. You will not be disappointed.

Property Manager

Kenny and Kelly were a dream to work with.

Property

Absolutely loved this property. My friends and family were super impressed too. Each room has its own bathroom, which was a huge plus. The pool, backyard, and outdoor shower are amazing. Even though it was incredibly hot out, we made s'mores at the fire pit. Highly recommend this place and hope to be back soon.

Property

Incredible better than a 5 star resort. House was amazing. 5 stars all around. The pool the furnishings. The decor the up keep and location

Property Manager

This is our 3rd stay with Dry Heat resorts and the 2nd time in this particular property. Interaction with Kenny was very easy and efficient.

Property

Just returned from our 8th annual "girls" trip, we are four women who are 40+. Property is well-maintained and very clean. The best part about the property is the outdoor space. It is large, very private and peaceful. The tanning shelf in the pool is a huge plus. Our group likes to spend the whole day outside, enjoying the outdoor space, and for that, this is one of the best homes we've stayed in. We also choose to try new restaurants every night in downtown Palm Springs, and the home location is great for that. As far as the home is concerned, it is well-equipped, beds are comfortable, linens are great and everything works. We all would highly recommend this property and Dry Heat Resorts. We will be back next year!

Property Manager

Kelly met us at the home and gave a complete tour. The house and service was excellent would recommend dry heat resorts to anyone. I will book with them again next year.

Property

Excellent week. House was beautiful and clean.

Property Manager

Kelly was great, pool guy and gardeners, as I mentioned before were great as well; had a problem with a leaky pipe (outside water main). Problem was diagnosed on the weekend-didnt matter; it was handled immediately, the cleanup was done the next day. Things wear out-we felt very good about how this was handled; the owner of the plumbing company was there, working on the weekend to ensure we were not inconvenienced.

Property

We were there for a month, really enjoyed the place. Everything works and is well maintained. We had guests come from L A, Australia, Ontario (Canada) and New Brunswick, no one could believe how close the airport was, how perfectly the place was located and how many places there are at the house to, eat outside, have a little privacy or socialize with a houseful of people, or, as we did, spend the last week alone; all

[email protected]

one place. Thanks.

Property Manager

Wonderful. Perfect. Easy.

Property

I rented this house with a group of friends for a New Years getaway. The place was lovely and immaculate, communication with management was extremely easy, and everything went extremely smoothly. I cant begin to describe how pleased we were. Everyone had a wonderful time and cant stop talking about the house. A terrific place to take in some calm desert air.

Property Manager

Kenny and Michael from Dry Heat Resorts were great, and even brought us a bottle of Chardonnay to offset the a/c issue that was going on upon our arrival. No biggie...things happen...they were great at helping us check-in and out without a snag.

Property

The pictures of this home are spectacular, and the home in person is even more amazing. I took my employees to PS to a work conference and decided to book this house instead of staying at the official resort where the conference was held. Everyone enjoyed this home so much we decided to stay at the house instead of attend the formal dinner at the conference the final night. The home is located just over a mile from the PSP airport, so it's very convenient getting to and from. The house is stocked with dishes and kitchen food prep items to make your stay easy to enjoy. The back yard, outdoor kitchen, and pool/hot tub are everything you think they will be in the photos. We will without a doubt be back. I highly recommend this home for your visit to Palm Springs!

Property Manager

Dry Heat Resorts has been a real pleasure to work with. Kelly is fantastic, making sure we have everything we need and being available at a moment's notice. We had very little need to call him in the time we were here as the house is so well maintained. Kenny is always quick to respond to all our enquiries and we have found the process of booking rental properties with him a breeze. Having rented houses all over the world through various online sites, working with Dry Heat has been by far the most seemless and positive experience.

Property

We love everything about Tachevah Sunrise. We love the location and the privacy it gives with its gates and walled exterior. It's easy to walk to both Uptown and Downtown Palm Springs if you like or a very quick drive. The Spanish architecture and interior decor are a fun change from our own home. The house has lots of room for family and friends to visit. All bedrooms are beautifully set up with lots of bathrooms, extremely comfortable beds and fine linens. The kitchen is very well appointed with everything you might need, including a panini press! The gardens and pool were tended regularly and kept looking beautiful. We first rented this home in 2016. Having just spent another holiday here, we are looking forward to coming back next year. It's come to feel like our home away from home for a wonderful winter getaway.
Need To Know
Good Neighbor Rules and Regulations For City of Palm Springs
Amplified music is prohibited outside of your vacation rental at all times.
Quiet hours are between 10 pm and 10 am. Please consider moving indoors after 10 pm.
A maximum of 8 people are allowed at the property overnight. Maximum daytime occupancy is 12.
The number of vehicles parked at the property must not exceed the number of bedrooms.
Dogs--If you have brought your dog, please clean up after your pet both on and off of the property
Every guest above the age of 18 is expected to review and sign the good neighbor document upon arrival.
Community - Movie Colony East, Palm Springs
Movie Colony East neighborhood, formerly Ruth Hardy Park, is a very sought-after central Palm Springs neighborhood, primarily because of its proximity to downtown. The community has over 700 homes of all sizes and architectural styles, mostly built between the late 1930s into the 2000's. The community is well know for some of its famous residents throughout the years, such as Frank Sinatra, Bob Hope, Steve Lawrence and Eydie Gorme, Bing Crosby, Carmen Miranda, Keely Smith and Hedy Lamarr.
Learn More
Similar Properties